Game
TWITCH RIVALS TO MARK PUBG: BATTLEGROUNDS 6TH ANNIVERSARY WITH PUBG EMEA THROWDOWN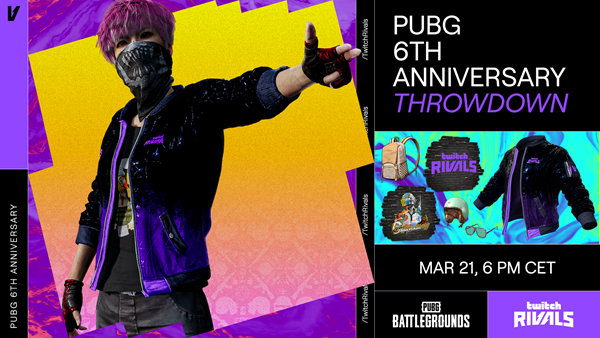 To celebrate the 6th Anniversary of PUBG: BATTLEGROUNDS, KRAFTON, Inc. and Twitch have announced Twitch Rivals: PUBG 6th Anniversary Throwdown – an online competition that will be held on March 21, 18:00 CET, featuring 48 Twitch streamers from across EMEA battling it out for a share of the $60,000 prize pool.
Key streamers, including WackyJacky101, DanucD, Mithrain, Chowh1, KayzahR, NoWay4U_Sir, have been selected as team captains and will draft rosters from a pool of available players to compete. The magic number for the Twitch Rivals: PUBG 6th Anniversary Throwdown is six: six matches, with six unique game settings, played on six iconic PUBG: BATTLEGROUNDS maps (Miramar, Deston, Vikendi, Sanhok, Karakin, Erangel). There will be a total of 12 teams of four players, and one match will be played in a 24 v 24 platoon mode battle.
The event will be broadcast on twitch.tv/twitchrivals where fans can follow the action every step of the way. The community can also tune in on the channels of the 12 captains who will all be streaming their matches. Furthermore, viewers will enjoy the exclusive event Twitch Drops. Fans are required to link their KRAFTON ID to their Twitch accounts here to claim the following items:
6th Anniversary Survivor Spray
Summer Safety – Helmet (Level 1)
Shutter Shades (Silver)
Twitch Rivals Spray
Beachwear Backpack (Level 2)
Twitch Rivals Bomber Jacket
Tune in at 18:00 CET on March 21 at twitch.tv/twitchrivals and for  information on the Twitch Rivals: PUBG 6th Anniversary Throwdown visit: https://twitchrivals.com/
Follow the official PUBG: BATTLEGROUNDS social media channels: Twitter, YouTube,  Instagram, Facebook, Twitch and TikTok.
Attachments