Game
TAKE CHARGE WITH NEW PATHS TO VICTORY AND NEW UNITS IN THE COMMAND AND CONTROL EARLY ACCESS UPDATE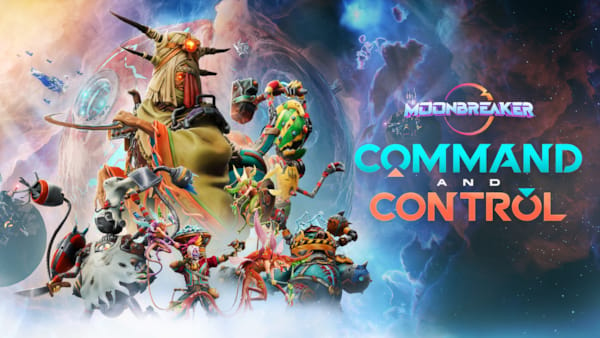 A new update – Command and Control – has arrived for Moonbreaker early access. Game Director Charlie Cleveland runs it all down in the latest Developer Vlog.
In this update we're debuting some new Smuggler units alongside a lot of changes that are aimed  at improving the PvP experience. Crash, Flurry, Hittenruhn, Noxy, and Turncoat all bring fresh abilities and tactics to your arsenal that will help steer your crew to victory. Corrupt enemy crew and bring them to your side with Turncoat. Deal damage to everyone (including yourself) with Flurry. Push Hittenruhn to hit and then run. All five of our newcomers are powerful,  offering a wide variety of ways to play, bringing new strategic depths to the Reaches.
We're also changing up the way matches flow from start to finish, with an entirely new way to win: Victory Points. It's a simple change – the first player to earn 10 VPs wins – that is poised to have a big impact. Knocking out the other player's Captain nets you 10 VPs, but it's not the only way to score a victory. Newly added Map Scenarios highlight different VP sources for players to chase, while Control Points introduce designated map zones where the player with the most units earns VP. There's also a new Leadership Points system that's meant to allow for easier, faster unit deployment while refocusing Cinder's utility on abilities. With this update also bringing team sizes back up to 10, variety is the name of the game in our Command and Control update.
Larger crews create more potential for interesting new lineups and ability synergies to emerge. Leadership Points give players the freedom to lean on their crew's abilities even more. And new ways to win shake up Moonbreaker's overall strategic landscape in ways that we're excited to see play out live. Taken together, these changes are meant to encourage fresh experimentation each time you venture into the Reaches, in turn creating a more dynamic and varied experience with each new match. Read more key details below, or head over to the full patch notes for an even deeper dive into what's new.
New Smugglers Units:

Crash: A seven-cost unit with 10 health and the Flux Capacitor ability: which attacks ALL touching units and permanently grants +1 Attack and -1 Health.
Flurry: A six-cost melee unit with 10 health that is Resilient and deals two damage to ALL units in range when attacked.
Hittenruhn: A four-cost unit who is Fast and Ambush but only has five health. Their move refreshes whenever they damage a target.
Noxy: A five-cost ranged unit with six health that is Resilient and creates a Toxoid whenever damaged. If a Toxoid is destroyed, Noxy gains +1 Attack.
Turncoat: A four-cost unit who can Immobilize rival Crew and gain control of them if they are still in range on the next turn.

Ship Assists are out: Ship Assists were greatly affecting the flow of multiplayer matches, giving too much match-ending power to a single ability. By removing them from PvP, we're effectively handing control over match flow back to the players. Strategic use of abilities can shift the momentum in any Duel, and we found that Ship Assists were doing that a little too effectively. So we're keeping them alive in single player as we examine how their removal shakes up PvP.
Victory Points are in: Defeating a Captain is no longer the only way to win the game, as a game is won when a team earns 10 Victory Points (VP). Defeating the Captain does grant 10 VP, but this system opens up new win conditions.
Leadership System: Deploy Units more easily with Leadership Points instead of Cinder. This change allows for quicker Unit deployment and more cinder ability spend.
Map Scenarios: Scenario maps are alternate versions of maps with unique objectives that reward or help players earn VP. These include control points and harvestable cinder!
For the latest information on Moonbreaker, please visit https://www.moonbreaker.com/en or follow us on social media (Twitter / Instagram / Facebook / YouTube). For assets, please visit the KRAFTON Press Site.
Attachments