Game
EXPERIENCE THE SAFETY AND SECURITY (NOT REALLY) OF CABLE CARS ON THIS NEW BATTLEGROUND
NEW STATE MOBILE Update 0.9.45 is now live on Android and  iOS, and Survivors have a whole new battleground to visit: LAGNA. This 4 square kilometer desert wasteland features mid-to-long range combat spaces surrounded by ridges. It's a real sniper's playground, with an unpredictable landscape where threats may be hiding anywhere. New cable cars provide a safer means of transportation, and LAGNA's two new vehicles – Rex, a durable four-passenger pickup truck; and Acton, a speedy two-passenger quad bike – join four of NEW STATE's staple rides.
Update 0.9.45 also introduces Survivor Pass Vol. 16, which features a new protagonist: Jenny Quick. Completing all story missions will allow players to equip Jenny's customizable face skin for free. Upgrading to the Premium Pass will provide access to the Jenny Quick costume set.
Finally, NEW STATE MOBILE will also be receiving a lineup of balance and quality of life updates, including changes to screenshake, adjustments to endgame Blue Zone damage, and new tracking bullets for the Mk47 Mutant.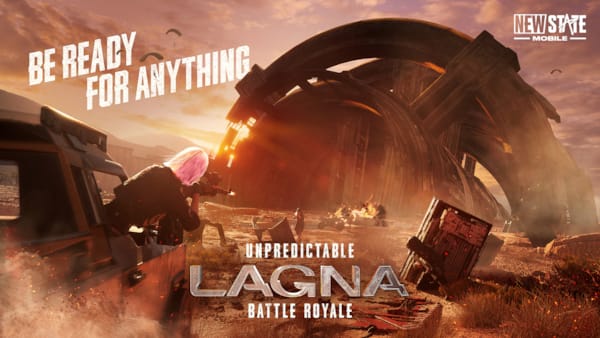 You'll find more on all the key details below, and you can also turn to the full patch notes for an even deeper dive into what's new.
Welcome to LAGNA

A Sniper's Paradise:Unpredictable is the name of the game with LAGNA's 16 square kilometers of desert set to shake up NEW STATE MOBILE's battle royale game, as rocky ridges peppered throughout the wide-open landscape create golden opportunities for medium- and long-range engagements.
Safe Travel: The LAGNA map replaces NEW STATE MOBILE's trams, which provide safety and healing for players as they cross a map, with cable cars that better fit the desert setting.
Less-Safe Travel: Survivors looking for more of a manual form of transport will be excited to check out LAGNA's two new vehicles: The Rex, a sturdy, gas-powered four-passenger pickup truck; and the Acton, a two-passenger electric quad bike that can easily manage the desert's steepest slopes. The two newcomers will be joined by a familiar cast of other NEW STATE MOBILE rides: Buggy, Vulture, Boat, and Aqua Rail.

A New Friend: The arrival of Survivor Pass Vol. 16 introduces a new protagonist to the New State Mobile mix: Jenny Quick. For free and Premium players alike, completing Jenny's newly added set of story missions will unlock a free face customization for her. Players who upgrade to the Premium Pass will also receive the New State Jenny Quick costume set, and a Premium Plus upgrade will unlock the first 15 levels of the Survivor Pass.
A Deadlier Endgame: Ever get the feeling that the Blue Zone is a bit too forgiving as matches creep toward their final minutes? Well that's about to change. With the launch of NEW STATE MOBILE Update 0.9.45, Blue Zone damage will be higher for Survivors who are further away from the safe zone.
A New Mutation: The Mk47 Mutant semiautomatic rifle is getting a nifty upgrade with the new C2 customization, which adds the ability to use tracking bullets. Hitting an enemy with a tracking bullet reveals their location to you and your squadmates for 10 seconds, even if they're in cover. An Mk47 Mutant C2 also deals higher damage, but these benefits come with tradeoffs: The C2 customization can't use the magazine slot, and it suffers from decreased recoil control.
Attachments