eSports
TEAM UK CROWNED PUBG NATIONS CUP 2022 CHAMPIONS
The roster received the largest share of the $500,000 USD prize pool after finishing first with a 203 points total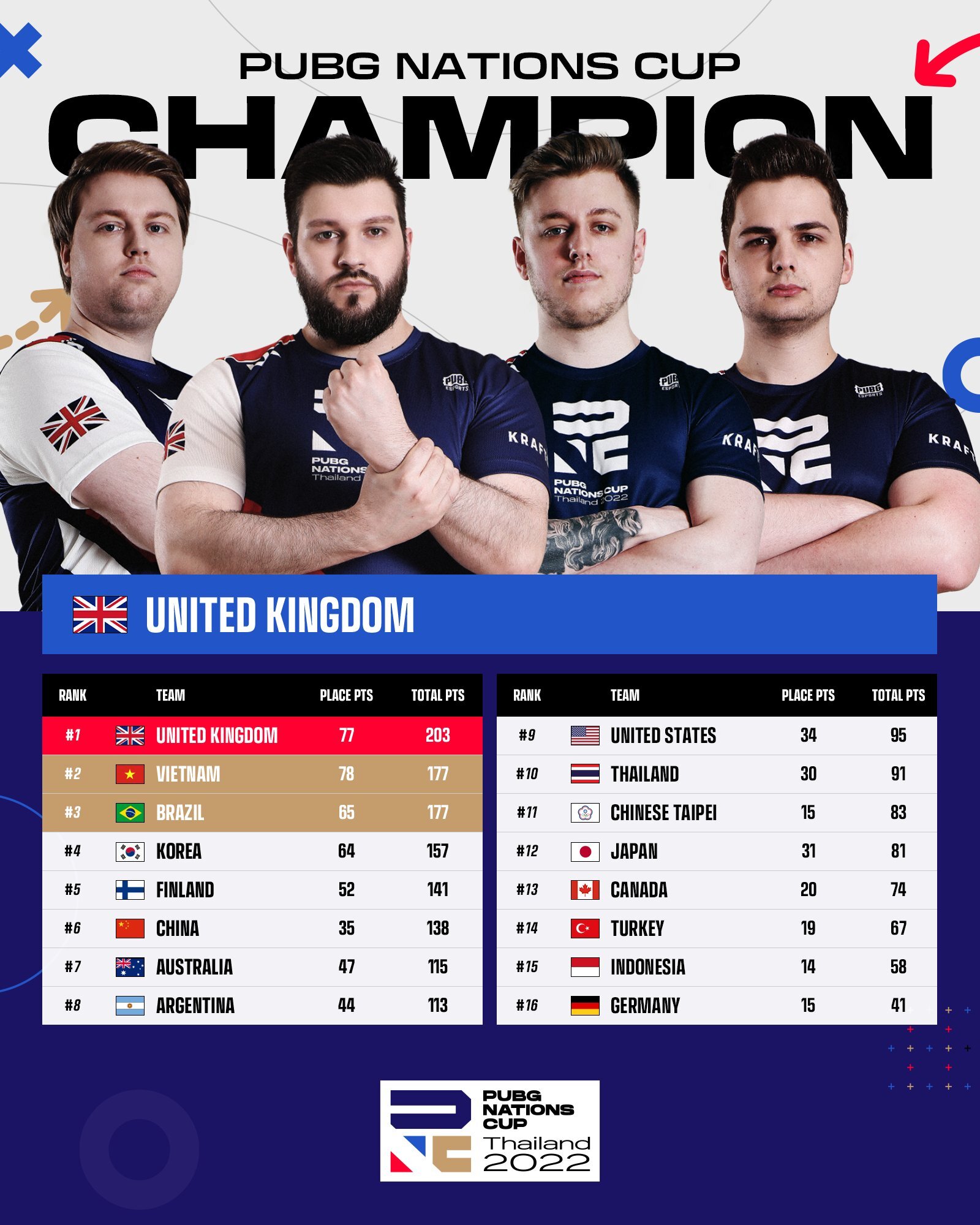 AMSTERDAM, NETHERLANDS – June 20, 2022 – On Sunday 19 June 2022 Team United Kingdom defeated 15 other rosters to be crowned the PUBG Nations Cup (PNC) 2022 champions at the ICONSIAM in Bangkok, Thailand. The roster – consisting of Alex "vard" Gouge, Christopher "Fexx" Wheddon, Luke "TeaBone" Crafer, Michael "mykLe" Wake and coach Justin "MiracU" McNally – finished first place with a total of 203 points to claim $100,000 after four days of PUBG Esports action. Additionally, the team will also receive added funds from the Pick'em Challenge activation. The tournament was made up of nations from Europe, Asia, Asia Pacific and the Americas and featured a total of 64 players and 16 coaches. Team UK were followed by Vietnam, Brazil and South Korea who claimed $58,000, $54,000, and $44,000 of the  $500,000  prize pool.
How Europe rosters performed at PNC 2022
Team UK started strongly securing the second win of Day 1 and laying down a marker for their opponents. They followed that up with an impressive second place finish in Match 3 where they picked up 18 kill points, the record amount for the opening day. The roster continued its good display on the second day of action picking up another win to ensure they stayed in the hunt for the title. Day 3 saw the team raise its game once more, enjoying 1 win and 40 eliminations over the course of the five matches. Vard, Fexx and Mykle particularly shone, taking 12, 11, and 9 eliminations each. The squad's fine form continued on the final day, winning Match 17 and holding their nerve to claim the PNC 2022 title with 203 points. They beat off fierce competition from Vietnam and Brazil who finished in second and third place. Team UK's vard was awarded the Most Valuable Player award after earning 36 kill points across the event.
Team Finland had an excellent start to PNC 2022. The roster won Matches 4 and 5 to top the leaderboard after Day 1, with curexi, D1gg3r1 and PaG3 all finishing in the top 5 performers for the day. Despite their strong start, Finland did not secure another win at PNC 2022, however the squad will be happy with a fifth-placed finish overall.
Team Turkey and Team Germany did not record any wins at PNC 2022 and concluded the tournament in 14th and 16th place.
Rosters from Europe, Middle East & Africa will now look forward to the PCS7 Grand Finals starting in September, as well as various regional third party events, and the PUBG Global Championship 2022 at the end of the year.
For the latest information about PUBG Esports, please visit PUBG Esports, Twitter, or Instagram. For the latest information on PUBG: BATTLEGROUNDS, please visit https://emea.battlegrounds.pubg.com/en/ or follow us on social media (Twitter / Instagram / Facebook / TikTok).
Attachments