Game
SQUAD UP WITH BLACKPINK AND KRAFTON TO DROP INTO PUBG: BATTLEGROUNDS
The world-renowned girl group brings their signature style to the Battlegrounds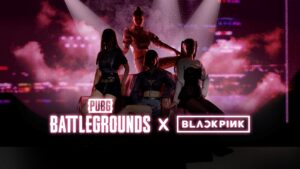 AMSTERDAM, NL – AUG. 4, 2021 – KRAFTON, Inc. today detailed its PUBG: BATTLEGROUNDS collaboration with BLACKPINK, the world-renowned girl group. This partnership includes an in-game event and thematic elements that can be found throughout certain maps and a series of BLACKPINK-themed in-game items.
PUBG: BATTLEGROUNDS X BLACKPINK DETAILS
 
BLACKPINK Collaboration Event – From Aug. 18 through Sept. 7, players can participate in special in-game event missions* to earn points that can be used to acquire exclusive BLACKPINK items like their in-game Level 3 helmet and Contraband coupons. Additional details are available at https://battlegrounds.pubg.com.
BLACKPINK In-Game Items – If players aren't able to complete the above Event Missions, they will still have the chance to purchase BLACKPINK-themed cosmetic items in-game from Aug. 4 through the end of 2021. Thirty-five distinct items will be available for purchase. JISOO, JENNIE, ROSÉ and LISA have their own cosmetic bundles available, each of which includes themed hair, an outfit, a nameplate, helmet, weapon and emote.
Themed In-Game Map Elements – Commemorating the collaboration, various BLACKPINK-themed elements will be applied to the maps in PUBG: BATTLEGROUNDS. Elements, which include building decals, plane banners, and thematic-changes to supply crates and LV.3 helmets will be available from Aug. 4 through Sept. 7 on PC and Aug. 12 through Sept. 15 on consoles.
For the latest information on PUBG: BATTLEGROUNDS, please visit www.pubg.com or follow us on social media (YouTube / Twitter / Instagram / Facebook / Twitch / TikTok).
Attachments