Game
KRAFTON Launches Early Access Test for "Defense Derby" on April 27th
Defense Derby rolls out early access to secure the quality of the game
The game is available for early access through Google Play from April 27 to May 11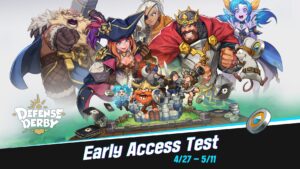 RisingWings, an independent studio of KRAFTON, Inc., announced on April 20th that it would begin the early access test of its real-time strategic defense mobile game "Defense Derby" on April 27th.
"Defense Derby" is a strategy game in the Tower Defense genre that offers players a new level of fun with intense mind games and strong synergy effects among cards. In each round, four players get cards through scouting and form a deck to protect their castles from monsters until only one player remains. The game stands out with its scouting system, which leads players to guess the opponents' next move and make a bold attempt and the strategic card deployment to create various synergy effects. As a result, players can enjoy more immersive gameplay experiences and palm-sweating mind games.
With this early access test, Defense Derby begins its final sprint to refine the game quality. The early access test lasts from April 27 to May 11 and players can download the game from Google Play to participate in the test.
In this early access test, a step-by-step growth system "Path of Guardian" is added. Players can receive various rewards depending on their progression in the league. Also, the process of obtaining cards has been modified from the previous year's global pre-release test version and now players have the ability to merge units during battles, resulting in a more strategic gameplay experience. The event mode "Derby Free Fight – Mirror Match" is also available, allowing all players to play Derby with the same provided deck, enabling them to enjoy the game without being hindered by their own deck.
Moonchul Kang, Vice President of RisingWings said "We are launching the early access test before the official release to provide players with a high-quality game. During the test period, we plan to collaborate with influencers to showcase content that introduces fun of Defense Derby and we aim to communicate actively with our users."
For more details about Defense Derby and its early access test, please visit https://cafe.naver.com/defensederbyofficial.
Attachments