Game
KRAFTON GLOBALLY LAUNCHES DEFENSE DERBY: REINVENTING THE TOWER DEFENSE EXPERIENCE
Defense Derby Ushers in a New Era of Tower Defense Gaming, Combining High-Stakes Strategy and Thrilling PvP Battles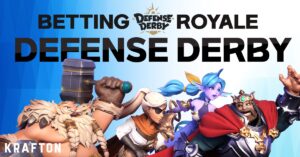 RisingWings, an independent studio of KRAFTON, Inc., officially launches Defense Derby, a real-time strategy mobile game that rejuvenates the tower defense genre. Now accessible in over 190 countries, players can download the game from Google Play, Apple's App Store, and Samsung's Galaxy Store.
Defense Derby invigorates the tower defense genre with exhilarating 4-player PvP battles, intricate strategic challenges, intense psychological warfare, and dynamic synergy effects. At the heart of the game lies the revolutionary "Betting Royale" genre, a novel approach where players dive into a thrilling "scouting stage," fiercely bidding against competitors to secure units and form their ultimate teams. With these units expertly arranged within their fortress, players counter continuous monster attacks, striving to remain the last player standing.
Defense Derby provides an array of game modes to enrich the gaming experience of its players. In the core Derby Mode, players battle against each other (PvP), while Blitz Mode offers PvE challenges. The Valley of Trials presents a unique test, compelling players to conquer challenges using a restricted selection of units. With Friendly Derby, players can establish rooms to engage their friends in combat. Themed Mode, offering a periodic shift in rules, is accessible for a limited period. Anticipated updates also include the Ban Pick Mode, allowing players to block specific opponent units, and Quest Mode, where the first to survive the onslaught and complete specific quests wins.
In celebration of Defense Derby's official release, KRAFTON and RisingWings arranged a collection of exciting in-game events. Every player receives a 'Welcome Package' brimming with bonuses such as 20,000 Gold, a Rare Hero card, a Rare Unit card, and a Special Castle Skin. Moreover, players can earn an array of rewards including Legendary Unit cards, Rare Unit cards, Cubics, Gold, and more through participating in in-game events like the Login Event, Lucky Draw, and Event Store. Additional events will unfold on the official Defense Derby's YouTube, Facebook, and Discord channels.
"We're thrilled to finally bring Defense Derby, two years in the making, to players across the Americas," said Sinchan Park, Production Director for Defense Derby at RisingWings. "Our commitment is to make players' game experience as enjoyable as possible with diverse content and dependable service."
For the latest Defense Derby updates, please visit https://defensederby.krafton.com and follow along on social media (Facebook | YouTube | Discord).
Attachments