Game
KRAFTON SOFT-LAUNCHES DEFENSE DERBY IN 6 COUNTRIES
Available in Singapore, Malaysia, Indonesia, Australia, Canada, and Hong Kong
New "Pick and Ban" mode is introduced, unit and combat balance improved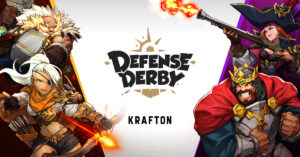 RisingWings, an independent studio of KRAFTON, Inc., announced on July 6th the soft launch of its real-time strategy defense mobile game Defense Derby.
Injecting new life into the tower defense genre, Defense Derby thrusts players into 4-player PvP battles where they face intense strategy, mind games, and powerful synergy effects. Each round begins with a "scouting stage," where players bid against each other to recruit units and assemble their squads. Players must then place their units strategically within their castles to leverage their special abilities and ward off a series of monster invasions. The player that survives the monster hordes and has the last castle standing wins the match.
The soft launch aims to identify areas for improvement and ensure a more polished game in advance of Defense Derby's official global release. The game will be available on Google Play in 6 countries including Singapore, Malaysia, Indonesia, Australia, Canada, and Hong Kong, and will support 4 languages of English, Malay, Indonesian, and Chinese(traditional).
In the soft launch, in addition to the Derby Mode, Faction Dungeon, and Friendly Derby that were introduced in the early access test, a new mode called 'Pick and Ban' will be newly available, where a player can prevent their opponents from using certain cards in their deck. Overall unit and combat balance has also been improved to provide players with a more enjoyable gameplay experience.
Defense Derby has begun global pre-registration ahead of its official release in the third quarter of this year. Pre-registration is available now on Google Play, Apple's App Store, and Samsung's Galaxy Store. Those who pre-register will receive a 'Welcome Package' at launch, replete with many in-game bonuses.
For the latest Defense Derby updates, please visit https://www.facebook.com/DefenseDerby.THAILAND and follow along on social media (YouTube).
Attachments