eSports
KRAFTON, INC. ANNOUNCES 2023 PUBG ESPORTS GLOBAL TOURNAMENT CALENDAR
Four Global Offline Tournaments Make Up KRAFTON's Esports Schedule, Inclusive of PUBG Global Series 1 and 2, PUBG Global Championship 2023, and PUBG Nations Cup 2023
AMSTERDAM, NETHERLANDS  – Feb. 16, 2023 – KRAFTON, Inc., the South Korean company responsible for PUBG: BATTLEGROUNDS, today shared its updated schedule of global PUBG Esports events for 2023. Four global offline events will be hosted by KRAFTON throughout the year, including PUBG Global Series 1 (April), PUBG Global Series 2 (July), PUBG Nations Cup 2023 (October), and PUBG Global Championship 2023 (Q4 2023).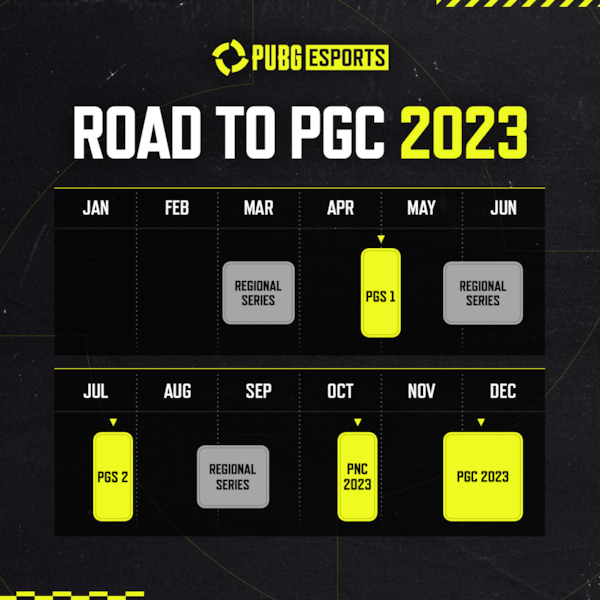 PUBG GLOBAL SERIES | APRIL & JULY 2023
PUBG Global Series (PGS) is KRAFTON's new premier offline PUBG Esports competition. There will be two PGS tournaments hosted in 2023 (April and July, respectively) comprised of 24 teams from the Americas, Europe, Asia, and Asia-Pacific regions. Each region will have a predetermined number of team slots available for each PGS tournament as outlined below:
Americas: 3 teams
EMEA: 2 teams
Asia: 5 teams
Asia-Pacific (includes Chinese Taipei and Japan): 6 teams
The eight teams from the
Global
Partner
Team (GPT)
Program (17 Gaming, FaZe Clan, Four Angry Men, Gen.G, Natus Vincere, Petrichor Road, Soniqs and Twisted Minds) will be directly invited to PGS and fill the remaining slots. The top four teams based on the combined results of PGS 1 and 2 will be guaranteed entry into PUBG Global Championship 2023, the details of which are below.
PUBG NATIONS CUP 2023 | OCTOBER 2023
With PUBG Nations Cup (PNC) 2023, a group of national teams will compete in PUBG: BATTLEGROUNDS on a global stage to see who is the world's best. PNC 2022 was held in Bangkok, Thailand,  and more than 1.6 million online viewers tuned in to watch Team United Kingdom take the champion's title. In 2023, teams will be hungrier than ever to step up their game and prove that they're the strongest PUBG Esports country.
PUBG GLOBAL CHAMPIONSHIP 2023 | Q4 2023
PUBG Global Championship (PGC) is positioned as the grand final of KRAFTON's annual esports competition and will make a return toward the end of this year. PGC 2023 will feature 32 of the world's top PUBG Esports teams, who will earn entry based on their overall 2023 performance at PGS1, PGS2, and a variety of other regional events. Each region will have a predetermined number of team slots available for each PGC tournament as outlined below:
Americas: 4 teams
EMEA: 6 teams
Asia: 10 teams
Asia-Pacific (includes Chinese Taipei and Japan): 7 teams
As mentioned above, the top four teams from PGS 1 and 2 (based on combined results) will also be granted entry into PGC 2023. A final slot will also be granted to PGC 2023's host country, which will be announced later this year.
PUBG ESPORTS 2023 RULESET

KRAFTON will be updating its S.U.P.E.R. ruleset for 2023 as part of PUBG Esports' effort to more closely align the rulesets of PUBG Esports and PUBG: BATTLEGROUNDS' Ranked Mode. The first update to the S.U.P.E.R. ruleset (v3.0.5) will introduce two new weapons – the MK12 and ACE32 – to all official PUBG Esports tournaments. This change comes as a follow-up to the promise KRAFTON made in November 2022 in which it stated its desire to lower the barrier of entry to PUBG Esports for new and legacy PUBG: BATTLEGROUNDS players.
PUBG EMEA CHAMPIONSHIP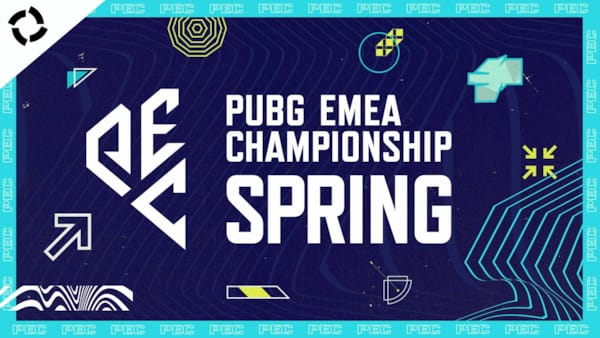 The Europe region is getting a rebrand to EMEA. Teams from the Middle East & Africa have been an important part of the EMEA PUBG Esports scene for a while now, and KRAFTON is honoring this with a new name for our region. The main event for the EMEA region is the brand-new PUBG EMEA Championship (PEC). Placing high in PEC, and other select events, is the main way that EMEA teams will acquire PGC Points this year. Like in 2022, these points will be tracked on a leaderboard throughout the year, and the teams with the most points will gain qualification to the biggest tournament of the year – the PUBG Global Championship. Teams that fall behind on PGC Points will have a final chance to make it to the main stage – the winner of the second PEC event will earn a direct slot to PGC regardless of their points total, while the remaining five slots are assigned to the highest-ranked teams on the PGC Points leaderboard.
Attachments