eSports
KRAFTON ANNOUNCES PUBG CONTINENTAL SERIES 5 DETAILS, INCLUDING ITS $1,000,000 TOTAL PRIZE POOL
The next premier esports event from the makers of PUBG: BATTLEGROUNDS consists of regional tournaments across Europe, Americas, Asia and Asia-Pacific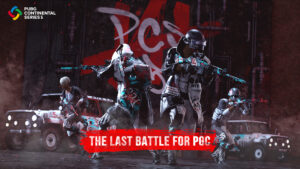 AMSTERDAM, NETHERLANDS – AUG. 11, 2021 – KRAFTON, Inc., the creators of PUBG: BATTLEGROUNDS, today announced details around its next premier esports event, PUBG Continental Series 5 (PCS5). PCS5 consists of four regional tournaments across Europe, the Americas, Asia and Asia-Pacific. Sixteen teams from each region will compete for their share of more than $250,000 USD (for a total prize pool of more than $1,000,000 USD across all regions).
PCS5 Europe Regional Qualifier Events
Each region will host its own set of qualification events to determine which teams earn the right to compete in the PCS5 Grand Finals. Details related to Europe – which includes Europe West, Europe East and Middle East & Africa – qualifier events are outlined below.
Open Qualifiers
Middle East & Africa: 6 – 8 August
Europe West: 10 – 15 August
Europe East: 17 – 22 August
Regional Playoffs
PCS5 Grand Finals ScheduleOnce the PCS5 regional qualifier and group stage events are complete, fans can look forward to the action culminating at each region's PCS5 Grand Final, which is scheduled across three weekends. Fans can tune-in to each PCS5 Grand Final on:
PCS5 EUROPE: Sept. 18-19 | Sept. 25-26 | Oct. 2-3
PCS5 AM: Sept. 16-17 | Sept. 23-24 | Sept. 30-Oct. 1
PCS5 APAC: Sept. 16-17 | Sept. 23-24 | Sept. 30-Oct. 1
PCS5 ASIA: Sept. 18-19 | Sept. 25-26 | Oct. 2-3
Tune-in and watch all the action live on https://www.twitch.tv/pubg and https://www.youtube.com/pubgesports.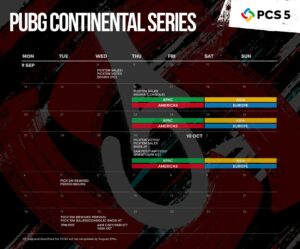 Crowd-Funded Prize Pools Return
The Pick' Em Challenge is returning for PCS5, which will give fans opportunities to earn in-game rewards by correctly predicting the outcomes of each regional tournament. Similar to previous Pick 'Em Challenges, fans need voting coupons to "vote" on the outcome they think is most likely. Voting coupons can be obtained by purchasing thematic PCS5 items or by watching the tournaments. Thirty percent of PUBG'S net sales of PCS5 items is shared directly with participating teams. Additional PCS5 Pick 'Em Challenge details will be announced soon.
For the latest information on PUBG Esports, please visit www.pubgesports.eu and follow the official Twitter, Instagram, TikTok and YouTube channels.
Attachments