eSports
KRAFTON ANNOUNCES PCS5 EUROPE GRAND FINALS ROSTERS
16 of the region's top teams will go head-to-head at the premier PUBG Esports event for a share of the more than $250,000 USD prize pot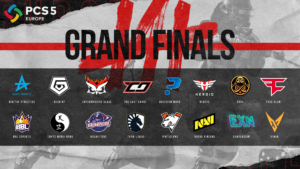 Amsterdam, Netherlands  – AUG. 30, 2021 – KRAFTON, Inc.,the creators of PUBG: BATTLEGROUNDS, have announced the 16 rosters who will compete at the PCS5 Europe Grand Finals. The winners of the online tournament will secure the lion's share of the more than $250,000 prize pot – as well as an automatic qualification spot for the PUBG Global Championship later this year. The rosters qualified for the event through either direct invites or regional qualifiers.
The following PUBG Esports teams will be competing at the Grand Finals:
Direct Invites
BBL Esports, Digital Athletics, ENCE, FaZe Clan, Natus Vincere, Team Liquid and Virtus.pro
From Qualifiers
Europe West: Vanir, HEROIC, The Last Dance
Europe East: Question Mark, Tokyo Manji Gang and EXhalatioN
Middle East & Africa: SuperMassive Blaze, Gear Up, Galakticos
The PCS5 Europe Grand Finals will take place on 18-19 September, 25-26 September and 2-3 October, matches start at 18:00 CEST daily.
Broadcasting details
Fans will be joined by PUBG Esports experts and tournament talents Patrick 'Frosz' Lu, Lauren 'pansy' Scott, Richard 'TheSimms' Simms, Tobias 'TheNameIsToby' Wiinblad, Martin 'Avnqr' Gøth and James 'Kaelaris' Carrol.
Europe West Playoff Ranking Roundup
It was an action packed weekend as 24 Europe West sides went toe-to-toe for the ultimate prize – qualification to the PCS5 Europe Grand Finals. Despite trailing other teams in terms of kills, Vanir finished the weekend with three chicken dinners, dramatically securing back-to-back wins in the last two matches. The full Danish roster topped the leaderboard, with HEROIC and The Last Dance taking the last two spots for the region. Entropiq Gaming will be disappointed to miss out this time, especially after an excellent performance from star man Naylup who took an impressive 38 kills.
MEA Playoff Ranking Roundup
Fans were excited ahead of the Middle East & Africa Playoff Rankings, and the region did not disappoint. It was a tug of war between several top quality rosters, with SuperMassive Blaze, Gear Up and Galakticos topping the charts and progressing to the PCS5 Europe Grand Finals. SuperMassive Blaze's LAHZA was the stand out performer, taking a superb 31 kills and 14 assists. Teams from across Europe will be fearing the skilled marksman at the PCS5 Europe Grand Finals.
Europe East Playoff Ranking Roundup
After three days of exciting gameplay, Question Mark, Tokyo Manji Gang and EXhalatioN finished at the top of the leaderboard at the Europe East Playoff Ranking. It was a weekend full of high quality PUBG Esports, with some of the finest players the region has to offer going head-to-head to try and make their mark. Academy of Death Fragger SHROWWWWWWW stood out, taking an impressive 26 kills, and EXhalatioN's Salik was just behind him with a respectable 24.
Pick'Em Challenge
The Pick' Em Challenge returns for PCS5 where fans will have the chance to earn in-game rewards by correctly predicting the outcome of each regional tournament. Fans can make their predictions by using voting coupons which are obtained by purchasing thematic in-game PCS5 items or by watching the tournaments. Thirty percent of PUBG'S net sales of PCS5 items is shared directly with participating teams. Additional PCS5 Pick 'Em Challenge details will be announced soon.
For the latest information on PUBG Esports, please visit www.pubgesports.eu and follow the official Twitter, Instagram, TikTok and YouTube channels. For further assets and press releases, please visit the PUBG Esports press room.
Attachments