Game
Grenade Launcher-focused "KA-BOOM" Mode Arrives with March Update​​​​​​​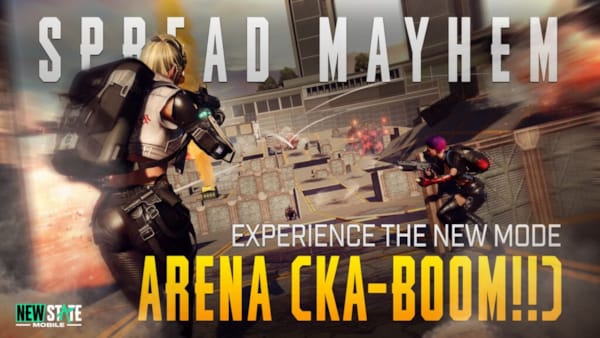 Today's March Update for NEW STATE MOBILE introduces KA-BOOM Mode, a grenade launcher-focused Round Deathmatch experience, along with LAGNA map improvements, a new "sawed-off" shotgun, Survivor Pass, and more. See major highlights below or view the full patch notes here.
KA-BOOM Mode
KA-BOOM Mode is a Round Deathmatch experience for the ARENA map featuring grenade launchers and throwables, with friendly fire disabled for grenade damage. The mode introduces the powerful "Red Zone Launcher" (which is more powerful than standard grenade launchers) and destructible terrain, excluding starting points and key areas. Falling into destroyed terrain leads to instant death so players must navigate this explosive environment cautiously to survive.
LAGNA Map Improvements
LAGNA map improvements, based on player feedback and data, include a guaranteed Mesta muscle car spawn for quick getaways, increased chances for multi-care packages to drop Custom Kits and Flare Guns, a slightly higher global item spawn rate, and adjusted Blue Zone's first phase timing for more early-game looting opportunities.
Survivor Pass Vol. 17
Survivor Pass Vol. 17 features Mayhem faction's Maria Gayle; completing story missions grants her free face skin, while Premium Pass unlocks her costume set. The newly introduced  "Legacy Pass" now lets players access previous Premium Pass content.
New Weapon: 12-Gauge Sawed-Off Shotgun
The new 12-gauge Sawed-off shotgun delivers powerful close-range damage, perfect for surprising LAGNA snipers. Custom Kit users can attach a Choke, reducing bullet spread for more accuracy.
For more detailed information about NEW STATE MOBILE, please visit the official homepage (http://newstate.pubg.com).
Attachments