Game
​​​​​​​FIRST EVER TURKISH TWITCH RIVALS: PUBG TURKEY SHOWDOWN TO TAKE PLACE ON FRIDAY 22 APRIL
The online PUBG: BATTLEGROUNDS (PUBG) competition will feature 64 Twitch streamers and offer a prize pool of $30,000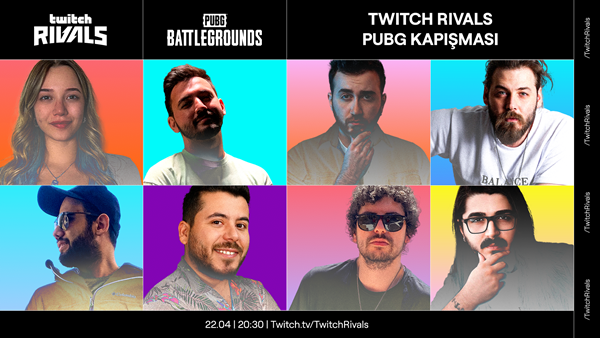 AMSTERDAM, NETHERLANDS – 20 April 2022 – PUBG: BATTLEGROUNDS (PUBG) streamers will go head to head at the Twitch Rivals: PUBG Turkey Showdown on Friday 22 April at 20:30 TRT – the first event of its kind to take place in Turkey. The online tournament – shown live on the Twitch Rivals channel – will offer 64 players a chance to compete for a share of the $30,000 prize pool.
The action will take place over five matches, each with unique game settings, and every match will also have its own prize pool and champion. Eight key creators – Elraen, Kendine Müzisyen, wtcN, Miafitz, Mithrain, Unlostv, 10000DAYS and Hype – have been chosen as team captains and will draft rosters from a pool of available players to compete. The first four matches will be contested by 8 x eight-person squads, with the last match being a 32 v 32 showdown with Elraen and Kendine Müzisyen acting as captains.
On the official Twitch Rivals channel fans will be joined by Talents AlpTV, Wreckage and Karahancaster who will be on hand to guide viewers through all of the action and offer their insights and expertise.The community can also tune in on the channels of the eight captains who will be sharing their live thoughts.
Furthermore, viewers will enjoy exclusive event drops throughout the tournament with Twitch Rivals x PUBG Turkey items being shared after every 45 minutes of watch time. Fans are required to link their KRAFTON ID to their Twitch accounts here to claim the following items:
Twitch Rivals Spray
Keep Calm and Drink Tea Spray
Snow Glasses
Female Tuxedo Jacket (Purple)
Slacks (Purple)
Begüm Gürses – Country Manager for Turkey at KRAFTON, Inc. – said "We have a strong PUBG: BATTLEGROUNDS community in Turkey which is why it's great to bring our first ever Twitch Rivals event to the country. We wish to offer our community fun, cool items, and a stage where they can engage with their favourite content creators."
Caroline de Luc –  Director of Original Content Production EMEA at Twitch – said: "The first ever Twitch Rivals: PUBG Turkey Showdown is going to be an evening to remember. We've got a selection of our top creators going toe to toe and they'll be joined by some of our favourite talents to guide fans through all of the action."
For more information on Twitch Rivals: PUBG Turkey Showdown fans can visit the official site and follow the PUBG Turkey Twitter page.
Attachments